This delicious potato pie is a versatile recipe to be served as an appetizer, a side dish or as a main course accompanied by a fresh salad. The base is prepared with brisèe dough that adds crispness. The filling is prepared with potatoes enriched with cream and Parmesan cheese to give it an aromatic note. In my recipe I like to use rosemary which complements the starchy taste of potatoes. If you prefer, you can replace it with chives. If you want to save time you can buy the brisèe dough, but I would recommend taking the time to prepare it yourself; it is definitely more fragrant, tastier and healthier.
TORTA DI PATATE ALLA PARMIGIANA (PARMESAN POTATO PIE)
Preparation time: 1 ½ hours                     Baking time: 1 h                     Servings: 6-8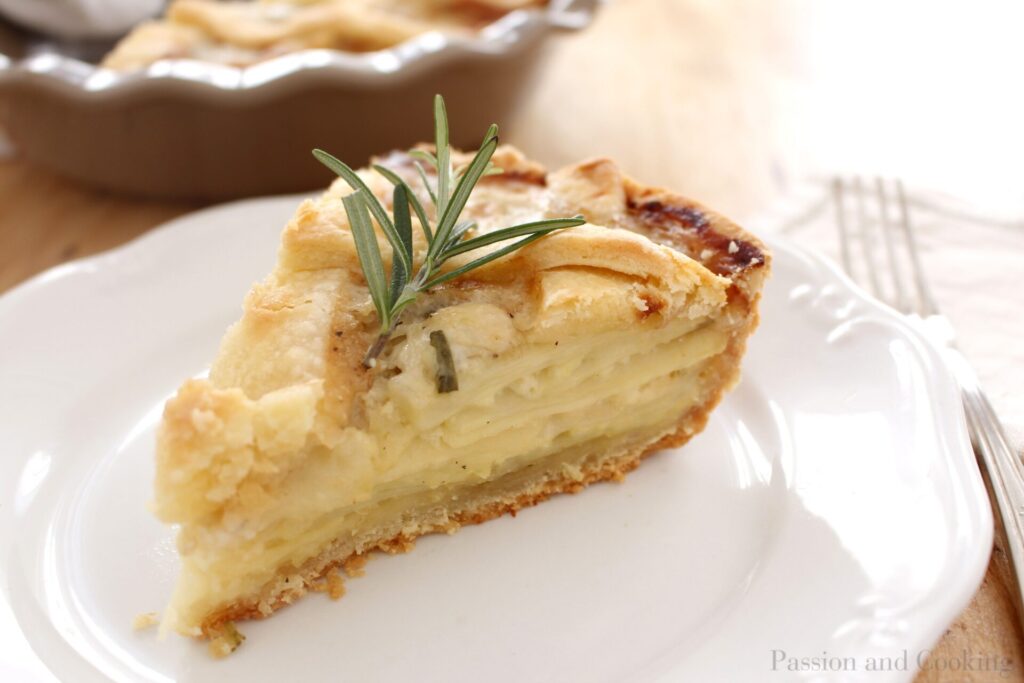 INGREDIENTS
Pasta brisèe
320 g (2 cups) all-purpose flour
170 g (6 oz) butter, cold and cubed
1 medium egg
80 ml (1/3 cup) cold water
1 teaspoon salt
Stuffing
700 g (25 oz) potatoes, peeled and sliced very thin
100 g (1 cup) grated Parmesan cheese
3 sprigs of rosemary
1 medium egg
180 ml (¾ cup) heavy cream
Salt and freshly ground pepper
DIRECTIONS
1. Prepare the brisèe dough. In a large bowl combine the flour and the salt. Add the butter and work with a pie cutter until mixture is sandy. Add the egg yolk and the water. Work first with a spoon and then with floured hands to form a homogeneous ball. Remember to handle the dough as little as possible. Wrap the dough in cling film and leave in the fridge for at least 30 minutes. Once the dough has rested, roll ⅔ (3 mm, 1/8 inch thick) with a floured rolling pin. Transfer the dough into a ceramic pan (25 cm diameter and 5 cm in height, 10×2 inch).
2. Preheat oven to 180 °C (350°F).
3. Prepare the filling. Cut the potatoes into very thin slices using a mandolin. Steam the potatoes for a few minutes, until tender.  Arrange a layer of potatoes (½ of the total quantity of potatoes) in the pan, sprinkle with about 50 g (½ cup) of Parmesan and half of the rosemary leaves (cut into small pieces), salt and pepper to taste. I use very little salt because of the Parmesan cheese. Arrange on top the remaining potatoes.
3. In a small bowl beat the egg with a hand whisk, add the cream and pour over the pie. Sprinkle with the remaining Parmesan and some pepper. Roll the rest of the dough. Cut some strips (6 mm, ¼ inch wide) and form a lattice work to cover the filling.
4. Bake uncovered for about 1 hour until the potatoes are tender and the surface is golden.
5. Remove from oven. Allow to cool on a wire rack for about 10 minutes. Serve warm.
Note: The cooking time depends on the type and the thickness of the potato slices. You may have to leave the pie in the oven for 10-15 minutes more. – Paola