Chicken marinated in orange juice is a typical dish from Sicily that I learned from a Sicilian friend. This recipe celebrates the flavors of the beautiful island, blending together the delicate taste of chicken meat with the intense flavor of oranges and the nutty flavor of pistachios. The best pistachios come from Bronte, a small village in Sicily, considered the Italian capital of this delicious nut. This recipe is not only beautiful and tasty but very healthy, nutritious and fast to prepare.
Chicken breast is a very lean meat, rich in protein, that helps you get the best fitness and sports results. Oranges are loaded with vitamin C with help control inflammatory diseases, like the common cold, and in pectin that is linked to cholesterol and diabetes control. In this recipe I use the Sicilian blood oranges: they contain an antioxidant red compound – present in many fruits, although uncommon in citrus fruit – which makes these oranges very special! Pistachios are a good source of protein and offer good fats, antioxidants, minerals and vitamins (vitamin E and carotens) as well. In one recipe you can combine all the health benefits of a wide variety of nutrients.
My recipe is even lighter than some similar ones because I don't add any fat during cooking, and I don't add any flour to prepare the sauce either. The sugar contained in the oranges forms a delicious natural and colorful glaze.
You might like to try this dish with some boiled rice or sauteed vegetables on the side.
POLLO MARINATO ALL'ARANCIA (CHICKEN MARINATED IN ORANGE JUICE
Preparation time: 1 h                    Cooking time: 10 minutes                       Servings: 4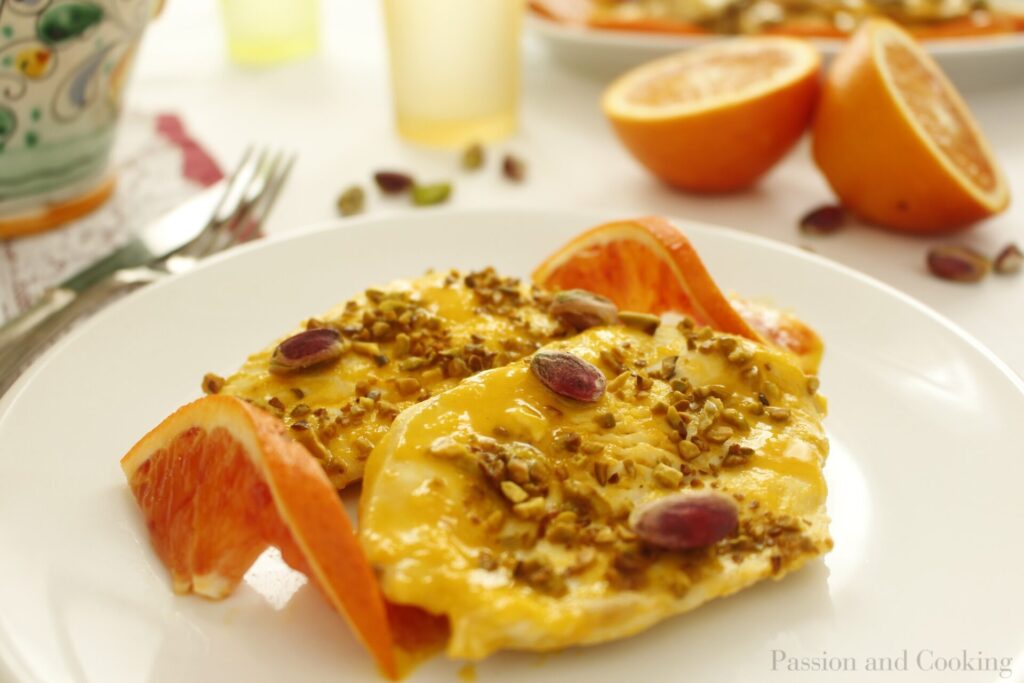 INGREDIENTS
450 g (1 pound) chicken breast, sliced
4 medium oranges + 1 orange, finely sliced for decoration
4 tablespoons toasted granola pistachio + some pistachios
Salt and freshly ground pepper
DIRECTIONS
1. In a non-stick skillet toast the pistachio granola on medium heat. Stir often and pay attention not to burn it. Cool and set aside
2. Squeeze the orange. Place the meat in a glass container, pour on the orange juice. Cover with plastic wrap and store in the fridge for 50 minutes
3. Heat a non-stick skillet to medium, pour in the chicken with the juice and cook until the juice glazes. While cooking add some salt and pepper to taste
4. Decorate a serving plate with the orange slices, arrange the chicken and decorate with the granola pistachios, with some whole pistachios on top. Serve warm. Paola